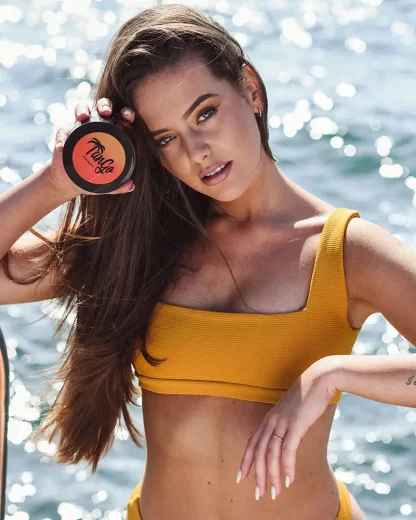 TanGo tanning jam 1+1 gratis
25,90€
TanGo tanning jam 1+1 gratis
Faster, bronzier and more intense tanning
Vegan product - Delightful fruity smell - Paraben and sulfate free
Characteristics
Makes you tanned longer
Keeps your skin moisturized and soft
Absorbs quickly and leaves no stains
Intoxicating tropical scent
200 ml
Note: contains no SPF protection.
Add to basket
Delivery 2-4 business days
...
Safe purchase
FREE shipping on orders above 60

€

.
Description
Faster, bronzier and more intense tanning|Vegan product – Delightful fruity smell – Paraben and sulfate free
Natural, affordable & skin-friendly
Massage the product into your skin in a circular motion. Apply the tanner to your body in sections, such as your arms, then legs and torso. Lightly extend the product from your ankles to your feet and from your wrists to your hands.
Precious walnut oil
Helps your skin maintain a youthful, fresh and glowing look. Enriched with vitamin E, which creates an invisible shield protecting your skin from everyday stress.

High-quality olive oil
Thanks to the high oleic and linoleic acid content, it softens, moisturises, and rejuvenates the skin. It will gain softness and elasticity.

Pure apricot kernel oil
Tones a light, pale complexion and restores the natural glow of your skin. Your skin will be grateful.

Organic cocoa butter
Ensures additional moisture and nourishment, and additionally lengthens the life-span of your tan, which contributes to a lovelier skin tone. The high antioxidant content helps restore your skin's natural glow.

Natural carrot oil
Helps quicken tanning and preserves a natural sunkissed look. Your friends will envy your sexy tan for a longer time.

INCI Ingredients: petrolatum, theobroma cacao (cocoa) seed butter, juglans regia (walnut) seed oil, olea europaea (olive) fruit oil, helianthus annuus (sunflower) seed oil, prunus armeniaca (apricot) kernel oil, perfume, daucus carota sativa (carrot) root extract, rosmarinus officinalis (rosemary) leaf extract, citral, limonene, linalool
ONCE UPON A TIME...

In the heart of a lush Slovenian forest, there lived a young beauty named Maja. She had always loved being in the sun and cherished the golden glow it gave her skin. The radiant girl was determined to capture the sun's rays in a bottle and decided to create a natural tanning product.

Maja spent years studying the ingredients and properties of various plants and herbs, experimenting with different combinations and formulations. She believed that nature held the key to unlocking a beautiful, healthy tan, free from harsh chemicals and artificial dyes.

Eventually, Maja created a range of natural products that became hugely popular among her friends and family. Encouraged by their feedback, she decided to turn her passion into a business and launched her own brand: Mazzaci.

Using only the finest natural ingredients, Mazzaci's skincare line soon gained a reputation for its gentle yet effective formulas that delivered a beautiful, sun-kissed glow. Customers loved the way their skin looked and felt after using Mazzaci's products – soft, bronzy, and glowing with health.

As the brand grew, Maja remained committed to her values of sustainability, animal-friendliness, and respect for nature. Today, Mazzaci is one of the leading natural skincare and haircare brands, trusted by thousands of customers around the world who share Maja's belief in the power of nature to create beautiful, healthy skin and hair.
Will this enticing bronzy tan last longer than my nail polish?
Do you even use a top coat? Hey, we're just joking … with regular use of the TanGo bronzing cream, beautiful, sun-kissed skin is sure to last longer than your manicure.

Emmmm ….I am pregnant. WHAT NOW?
Hey, future mom! Congrats. We hope that the question is whether you can use TanGo? 😊 Don't worry – all ingredients are completely natural and harmless. TanGo is safe for all pregnant ladies that want to complete their "pregnancy glow" with a seductive summer tan.

I use the elevator every day. (I CAN'T stand the smell of sweat). Does TanGo smell weird?
Well, we get your struggle (especially in the summer, with a fully stuffed elevator), but some people avoid deodorants because they contain so many chemicals. But there is no need to worry – TanGo has a heavenly-seductive gentle scent. Its fragrance will bring happiness to everyone in the elevator. 😊

My boyfriend is nibbling on my neck and making hickeys. Is it safe?
If he doesn't bite too hard, it's probably ok. Otherwise, TanGo is completely natural, and your boyfriend is safe if he's not allergic to its natural ingredients. P. S. Use the cold spoon trick. Place it in the freezer for 10 minutes and then press its entire surface against his love bite. 😊

I always use all the hot water in the shower. Is my tan going to wash out?
Of course not, there's no fear of that, all you have to do is apply TanGo after your shower. That's how you'll keep your summer glow, plus hydrate and nourish dry skin. You get to keep the tan, while your skin stays healthy. 😊

I've read that too much sunbathing speeds up the aging of skin? Does it really?
Supposedly, nothing ages your skin faster than the rays of sun we all love so much. SO, if you really adore the seductive tanned look with a bronzy gleam, and want to avoid the glaring sun, we recommend you use the TanGo tanning cream.

Where is TanGo made?
The TanGo cream is made on the sunny side of the Alps. In Slovenia. (EU)

I have an allergy on almost all sunscreens. What to do?
TanGo is not a sunscreen. As it's made of 100% natural ingredients, we advise you to carefully read the list of ingredients before applying it, and check if you're allergic to any of them.

Can Tango be used in tanning salons?
Tango is generally safe and effective for use in tanning salons. However, it's important to note that each salon may have its own policies and guidelines regarding the use of self-tanning products.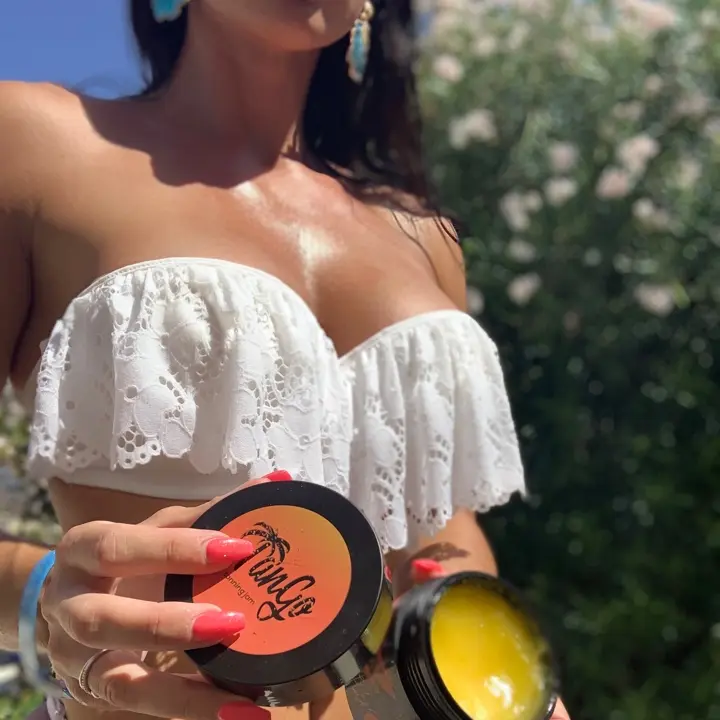 Because we care
Cruelty free
All natural
Wonderful smell
Made in EU